Alan Ayckbourn: Plays Directed
Wife Swapping - Italian Style (1970)
Author:
New Play:

Venue:
Location:
Staging:

First performance:
Opening night:
Final performance:
Leon Katz
No

Library Theatre
Concert Room, Scarborough Library
Round

15 June 1970
15 June 1970
12 August 1970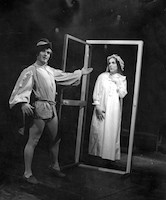 Director:

Stage Manager:
Deputy Stage Manager:
Asst. Stage Manager:
Alan Ayckbourn

Philip Randell
Graham Phoenix
Gillian Davidson
Character

Arlecchino
Coviello
Flamina
Pantalone
Zanni
Franceschina
Leandro
Cintia
Actor

Robert Peck
Piers Rogers
Elisabeth Sladen
Joe Dunlop
Ronald Herdman
Stephanie Turner
Richard Derrington
Jane Douglas
○
Wife-Swapping: Italian Style
was loosely based on the anonymous Commedia dell'Arte scenario
The Three Cuckolds
.

○
The play was toured to Hull Prison; the actor Richard Derrington has very vivid memories of performing in pink tights at the show!
All research for this page by Simon Murgatroyd.