Alan Ayckbourn: Plays Directed
Author:
New Play:

Venue:
Location:
Staging:

First performance:
Opening night:
Final performance:
Henry Becque
No

Stephen Joseph Theatre In The Round
Main house (Round)
Round

27 September 1989
3 October 1989
21 October 1989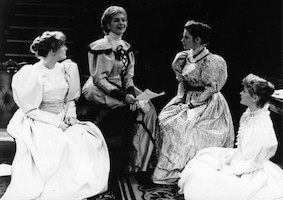 Director:
Lighting:
Design:
Music:

Stage Manager:
Deputy Stage Manager:
Deputy Stage Manager:
Asst. Stage Manager:
Asst. Stage Manager:
Alan Ayckbourn
Francis Stevenson
Michael Holt
John Pattison

Vaughan Curtis
Natasha Betteridge
Lynda Snowden
Sarah Percival
Marina Kilby
Character

M. Vigeron, a manufacturer
Mme Vigneron, his wife
Judith, their daughter
Marie, their daughter
Blanche, their daughter
Gaston, their son
Auguste, their servant
Rosalie, their servant
Mme de Saint-Genis
Merckens, a music teacher
Teissier, a former banker
Bourdon, a lawyer
Lenormond, a civil servant
George de Saint-Genis
General Fromentin
Doctor
Lefort, an architect
Dupois, an upholsterer
Actor

James Tomlinson
Elizabeth Bell
Jennifer Wiltsie
Robin McCaffrey
Claire Skinner
Ian Dunn
Daniel Collings
Doreen Andrew
Alison Skilbeck
Sean Chapman
Bernard Hepton
Jon Strickland
Robin Newman
Dean Daley
Robin Bowerman
Bill Moody
Robin Bowerman
Bill Moody
○
This was a new adaptation by Alan Ayckbourn from a new translation by Professor David Walker of Henry Becques' play
Les Corbeaux
(
The Crows
).

○
Further details about
Wolf At The Door
can be found
here
.
All research for this page by Simon Murgatroyd.