Alan Ayckbourn: Plays Directed
Love Songs For Shopkeepers (1998)
Author:
New Play:

Venue:
Location:
Staging:

First performance:
Opening night:
Final performance:
Tim Firth
Yes

Stephen Joseph Theatre
The Round
Round

6 August 1998
11 August 1998
26 September 1998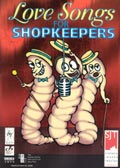 Director:
Musical Director:
Design:
Lighting:
Choreography:

Stage Manager:
Asst. Stage Manager:
Alan Ayckbourn
John Pattison
Michael Holt
Paul Towson
Sheila Carter

Helen Reynolds
Fleur Linden Beeley
Character

Pete
Jerry
Glynn
Adam
Michelle
Becky
Actor

Bill Champion
Keith Bartlett
John Branwell
Nicholas Haverson
Janie Dee
Helen Pearson
○
Love Songs For Shopkeepers
was part of the 10x10 season presented at the Stephen Joseph Theatre during the summer of 1998. It featured 10 plays receiving either their world or British premieres in repertory performed by a company of 10 actors.
All research for this page by Simon Murgatroyd. Image copyright: Scarborough Theatre Trust.