Alan Ayckbourn: Plays Directed
Author:
New Play:

Venue:
Location:
Staging:

First performance:
Opening night:
Final performance:
Henrik Ibsen
No

Stephen Joseph Theatre
The Round
Round

21 October 1998
27 October 1998
21 November 1998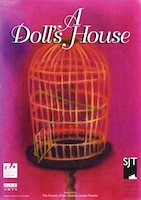 Director:
Design:
Lighting:
Choreographer:

Stage Manager:
Deputy Stage Manager:
Asst. Stage Manager:
Asst. Stage Manager:
Alan Ayckbourn
Michael Holt
Mick Hughes
Sheila Carter

Dawn Erica Dyson
Fleur Linden Beeley
Keith Tunstall
Sara Wells
Character

Nora
Torvald Helmer
Dr Rank
Mrs Kristine Linde
Nils Krogstad
Anne-Marie
Helene
Actor

Claire Carrie
Richard Derrington
Julian Forsyth
Dorothy Atkinson
Robert Austin
Nicola Sloane
Charlie Hayes
○
Despite being a fan of Ibsen's plays, this marked the first time Alan Ayckbourn had directed a play by Ibsen.
All research for this page by Simon Murgatroyd. Image copyright: Scarborough Theatre Trust.