Alan Ayckbourn: Plays Directed
Author:
New Play:

Venue:
Location:
Staging:

First performance:
Opening night:
Final performance:
Hugh Mills
No

Library Theatre
Concert Room, Scarborough Library
Round

14 July 1975
14 July 1975
3 September 1975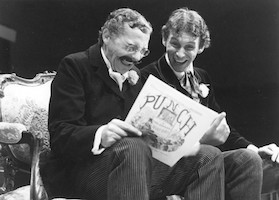 Director:
Design:
Costumes:

Stage Manager:
Deputy Stage Manager:
Asst. Stage Manager:
Alan Ayckbourn
Helga Wood
Philip Pawsey

David Millard
Kevin Wood
Susan Legge
Character

Burton, a maid
Dearest, mother of Cedric
Cedric, Lord Fauntleroy
Lettice, Lady Fauntleroy
Violet, Comtesse de Chaumont
Furse, the butler
Molyneux, Earl of Dorincourt
Sir Pomeroy Pomeroy-Jones
Eustace Pomeroy-Junes
Actor

Christine Welch
Janet Dale
Stephen Mallatratt
Eileen O'Brien
Polly Warren
Kevin Wood
Bob Eaton
David Ross
Christopher Godwin
○
Angels In Love
was not originally scheduled for the summer 1975 season at the Library Theatre, Scarborough, but was a late replacement for the advertised play
Up To The Eyes
by Peter King, which was withdrawn from the schedule in early June when the new play was announced as not being up to expectations.
All research for this page by Simon Murgatroyd. Image copyright: Scarborough Theatre Trust.