Alan Ayckbourn: Plays Directed
Author:
New Play:

Venue:
Location:
Staging:

First performance:
Opening night:
Final performance:
Michael Cashman
Yes

Stephen Joseph Theatre In The Round
Main house (Round)
Round

22 August 1984
22 August 1984
22 September 1984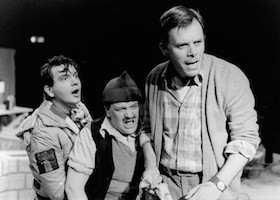 Director:
Lighting:
Sound:
Design:
Music:

Stage Manager:
Stage Manager:
Deputy Stage Manager:
Asst. Stage Manager:
Asst. Stage Manager:
Asst. Stage Manager:
Alan Ayckbourn
Francis Lynch
Francis Lynch
John Hallé
Paul Todd

Baz Edmonds
Eric Lumsden
Maggie Nottage
Jackie Hurd
Drew Scott
Kathryn-Anne Woodward
Character

Terry
Alex
Danny
Ted
DS
Alice
Actor

Lennox Greaves
Russell Dixon
Mark Jax
Geoffrey Banks
Heather Stoney
Carol Gillies
○
Brick 'n' Mortar
was Michael Cashman's second play for the company and was inspired by his own experiences rebuilding and refurbishing his own house in London.
All research for this page by Simon Murgatroyd. Image copyright: Scarborough Theatre Trust.