Alan Ayckbourn: Plays Directed
Author:
New Play:

Venue:
Location:
Staging:

First performance:
Opening night:
Final performance:
Noël Coward
No

Stephen Joseph Theatre In The Round
Main house (Round)
Round

28 March 1977
29 March 1977
10 August 1977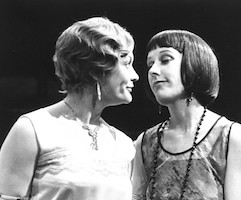 Director:
Design:

Stage Manager:
Deputy Stage Manager:
Asst. Stage Manager:
Asst. Stage Manager:
Alan Ayckbourn
Helga Wood

Janet Fox
Christopher Gray
Anne Hawkins
Simon Richardson
Character

Julia
Fred, her husband
Saunders, her maid
Willy
Jane, his wife
Maurice Duclos, a Frenchman
Actor

Alison Skilbeck
Malcolm Hebden
Diane Bull
Bob Eaton
Petronella Ford
Robin Herford
○
Fallen Angels
marked the first time that Alan Ayckbourn had directed a play by Noël Coward.
All research for this page by Simon Murgatroyd. Image copyright: Scarborough Theatre Trust.