Alan Ayckbourn: Plays Directed
Author:
New Play:

Venue:
Location:
Staging:

First performance:
Opening night:
Final performance:
Robert Shearman
Yes

Stephen Joseph Theatre
The Round
Round

20 August 1997
26 August 1997
20 September 1997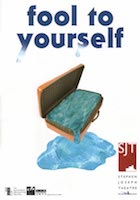 Director:
Design:
Lighting:

Stage Manager:
Deputy Stage Manager:
Asst. Stage Manager:
Alan Ayckbourn
Michael Holt
Paul Towson

Richard Clayton
Harry Teale
Gemma Brooks
Character

Robert Hunter
Bob Hunter
Karen Hunter
Carrie Brewer
Dominic Bradshaw
Bridget Bradshaw
Actor

Richard Freeman
Nicholas Haverson
Fiona Hendley
Victoria Gay
Colin Gourley
Dorothy Atkinson
○
Fool To Yourself
was the playwright Robert Shearman's first full-length play. Rob had previously had one act plays produced at the theatre - including
White Lies
- and would go on to have further one act and full-length plays debut in Scarborough.
All research for this page by Simon Murgatroyd. Image copyright: Scarborough Theatre Trust.