Alan Ayckbourn: Plays Directed
Author:
New Play:

Venue:
Location:
Staging:

First performance:
Opening night:
Final performance:
Sandy Wilson
No

Stephen Joseph Theatre In The Round
Main house (Round)
Three-sided

19 December 1984
19 December 1984
19 January 1985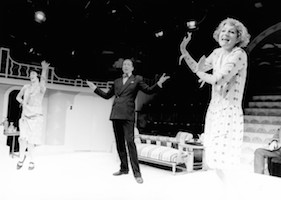 Director:
Musical Direction:
Lighting:
Sound:
Design:
Choreography:

Stage Manager:
Deputy Stage Manager:
Asst. Stage Manager:
Asst. Stage Manager:
Alan Ayckbourn
Paul Todd
Francis Lynch
Francis Lynch
Edward Lipscomb
Olivia Breeze

Eric Lumsden
Anneke Harrison
Drew Scott
Kathryn-Anne Woodward
Character

Guide / Wagstaffe / vicar
Emily
Alfred Fatigay
Fern Flint
Susan Dunedin
Headman / Librarian / Herbert
Loblulya / Sally / Millicent
Dennis Tickler
Society girl / Myrtle
Publican
Doorman
Organ-grinder

Actor

Brian de Salvo
Mikki Magorian
Adam Blackwood
Caroline Webster
Haydn Gwynne
Nicholas Lumley

Dorcas Jones
Reggie Oliver
Kathryn-Anne Woodward
Paul Todd
Baz Edmonds
Eric Lumsden
○
This was the first production of the musical performed outside of London since it had been first produced in 1971.

○
For this production, the in-the-round space was adapted to three-sided to better suit the need of the musical.

○
This was an adaptation of John Collier's originally work by Sandy Wilson.
All research for this page by Simon Murgatroyd. Image copyright: Scarborough Theatre Trust.