Alan Ayckbourn: Plays Directed
Author:
New Play:

Venue:
Location:
Staging:

First performance:
Opening night:
Final performance:
Stephen Mallatratt
Yes

Library Theatre
Concert Room, Scarborough Library
Round

25 August 1976
25 August 1976
8 September 1976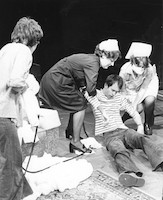 Director:
Design:

Stage Manager:
Asst. Stage Manager:
Asst. Stage Manager:
Asst. Stage Manager:
Alan Ayckbourn
Helga Wood

Simon Somers
Christopher Gray
Wendy Murray
Nigel LeVaillant
Character

Dorothy
Geraldine
Shakespeare
Peter
Nobby
Vic
Actor

Alison Skilbeck
Elspeth Charlton
Elaine Strickland
Robin Herford
Stephen Lowe
Christopher Godwin
○
Mother Country
was the final new play to be produced at the Library Theatre, Scarborough. Between Stephen Joseph opening the venue in 1955 and its closure in 1976, prior to the company's subsequent move to the Stephen Joseph Theatre In The Round at Westwood, the company produced 161 plays of which 76 were new commissions.
All research for this page by Simon Murgatroyd. Image copyright: Scarborough Theatre Trust.