Alan Ayckbourn: Plays Directed
One Over The Eight (1992)
Author:
New Play:

Venue:
Location:
Staging:

First performance:
Opening night:
Final performance:
Peter Robert Scott
Yes

Stephen Joseph Theatre In The Round
Main house (Round)
Round

9 January 1992
14 January 1992
1 February 1992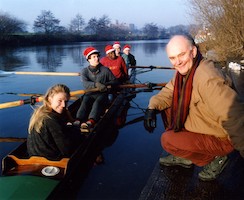 Director:
Lighting:
Design:
Music:
Staff Director:
Fitness Consultant:
Rowing Consultant:
Fitness Assistant:

Stage Manager:
Deputy Stage Manager:
Asst. Stage Manager:
Alan Ayckbourn
Mick Hughes
Roger Glossop
John Pattison
Connal Orton
Don Glynn
Matthew Mowbray
Jo Purdy

Philip Rees
Erica Jane Fletcher
Christopher Savage
Character

Cathy
Ray
Bryan
Vic
Dave
Oliver
Tim
Don
Stan
Actor

Saskia Wickham
John Robinson
Jonathan Cake
Stephen Mapes
David Harewood
Jo Stone-Fewings
Gary Whitaker
Mark Addy
Richard Long
○
One Over The Eight
was scheduled to have its preview on 8 January 1991 at the Stephen Joseph Theatre In The Round. However, when the actor Richard Long fell ill the day before the show was due to open, the first preview was cancelled and the show's first performance took place on 9 January. Nicholas Palliser took over the role for several performances until Richard Long was fit enough to rejoin the company.

○
The image is a publicity shot of Alan Ayckbourn with members of the company - including Saskia Wickham - learning to row on the River Ouse.
All research for this page by Simon Murgatroyd. Image copyright: Scarborough Theatre Trust.