Alan Ayckbourn: Plays Directed
Author:
New Play:

Venue:
Location:
Staging:

First performance:
Opening night:
Final performance:
Brian Thompson
Yes

Stephen Joseph Theatre In The Round
Main house (Round)
Round

10 October 1978
11 October 1978
28 October 1978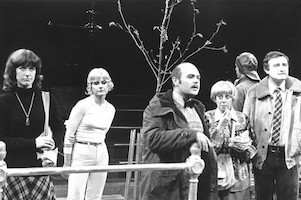 Director:
Design:
Costumes:

Stage Manager:
Deputy Stage Manager:
Asst. Stage Manager:
Asst. Stage Manager:
Alan Ayckbourn
David Millard
Frances Upton

Janet Fox
Christopher Gray
Dee Marsden
Isobel Nimmo
Character

Jenny Ellis
Harry Goodenough
Rupert Salmon
Jack Hemsworth
Milly Frankland
Renate Burgholz
Molly Frankland
Actor

Alison Skilbeck
John Arthur
Robert Austin
Robin Herford
Shelagh Stuttle
Lavinia Bertram
Shelagh Stuttle
○
Patriotic Bunting
was the first play to be produced at either the Library Theatre or the Stephen Joseph Theatre In The Round to be actually set in the venue's home-town of Scarborough.

○
Patriotic Bunting
was recorded for the radio by the BBC featuring the Scarborough company and was first broadcast on BBC Radio 4 on 13 August 1979. The production was directed by Alan Ayckbourn and produced by Alfred Bradley with the same company with the exception of Geoffrey Banks replacing Robert Austin and with Heather Stoney credited as 'Other parts played by:'.
All research for this page by Simon Murgatroyd. Image copyright: Scarborough Theatre Trust.