Alan Ayckbourn: Plays Directed
Author:
New Play:

Venue:
Location:
Staging:

First performance:
Opening night:
Final performance:
George Bernard Shaw
No

Stephen Joseph Theatre In The Round
Main house (Round)
Round

11 October 1977
12 October 1977
29 October 1977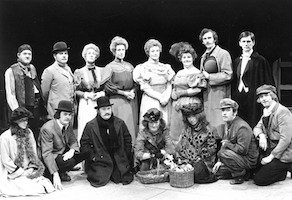 Director:
Design:

Stage Manager:
Deputy Stage Manager:
Asst. Stage Manager:
Asst. Stage Manager:
Alan Ayckbourn
Michael Holt

Janet Fox
Ian Farrar
Dee Marsden
Derek Scriminger
Character

Professor Higgins
Colonel Pickering
Mrs Pearce
Eliza Doolittle
Alfred Doolittle
Mrs Higgins
Mrs Eynsford Hill
Miss Clara Eynsford Hill
Freddy Eynsford Hill
Maid
Bystanders etc.
Actor

Christopher Godwin
Robert Austin
Christine Welch
Diane Bull
Stanley Page
Alison Skilbeck
Petronella Ford*
Annette Badland
Stephen Lowe
Dee Marsden
Mervyn Watson
Malcolm Hebden
Janet Fox
David Millard
Ian Farrar
○
The actress Petronella Ford had health issues near the end of the play's run and her role was taken by Heather Stoney for the final five performances of the play.
All research for this page by Simon Murgatroyd. Image copyright: Scarborough Theatre Trust.