Alan Ayckbourn: Plays Directed
Author:
New Play:

Venue:
Location:
Staging:

First performance:
Opening night:
Final performance:
Ben Travers
No

Stephen Joseph Theatre In The Round
Main house (Round)
Round

2 May 1978
3 May 1978
19 July 1978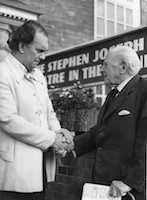 Director:
Design:

Stage Manager:
Deputy Stage Manager:
Asst. Stage Manager:
Asst. Stage Manager:
Alan Ayckbourn
Michael Holt

Janet Fox
Christopher Gray
Dee Marsden
Derek Scriminger
Character

Gertrude Twine
Mrs Leverett
Harold Twine
Clive Popkiss
Gerald Popkiss
Rhoda Marley
Putz
Admiral Juddy
Poppy Dickey
Clara Popkiss
Mrs Possett
Actor

Alison Skilbeck
Shelagh Stuttle
Malcolm Hebden
Robin Murphy
Robin Herford
Lavinia Bertram
John Arthur
Robert Austin
Dee Marsden
Fiona Mathieson
Janet Fox
○
Rookery Nook'
s author Ben Travers - aged 92 - visited Scarborough to see this production of his play, marking the first time he had met the playwright and the venue's Artistic Director Alan Ayckbourn.

○
Rookery Nook
marked the first time the company had produced a play by Ben Travers.

○
Rookery Nook
The image shows the first meeting between Alan Ayckbourn and the playwright Ben Travers during his visit to Scarborough (image copyright: Scarborough Theatre Trust).
All research for this page by Simon Murgatroyd. Image copyright: Scarborough Theatre Trust.