Alan Ayckbourn: Plays Directed
Author:
New Play:

Venue:
Location:
Staging:

First performance:
Opening night:
Final performance:
Somerset Maugham
No

Library Theatre
Concert Room, Scarborough Library
Round

12 August 1974
12 August 1974
11 September 1974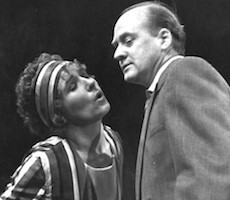 Director:
Costumes:

Stage Manager:
Deputy Stage Manager:
Asst. Stage Manager:
Asst. Stage Manager:
Alan Ayckbourn
Christine Welch

David Millard
Trevor John-Smith
Helga Wood
Kevin Wood
Character

Charles Battle
Margery, his wife
Patrick
Judy
Alfred Granger
Dorothy, his wife
Diana
Timothy
Actor

Stanley Page
Heather Stoney
Stephen Mallatratt
Christine Welch
Ronald Herdman
Janet Dale
Eileen O'Brien
Christopher Godwin
○
The Library Theatre's production of
The Breadwinner
was recorded for the BBC Radio
Repertory In Britain
(
Afternoon Theatre
) series. The production was produced by Alfred Bradley, directed by Alan Ayckbourn and adapted for the radio by Kay Jamieson. The production was broadcast on BBC Radio 4 on 14 December 1974.
All research for this page by Simon Murgatroyd. Image copyright: Scarborough Theatre Trust.