Alan Ayckbourn: Plays Directed
Author:
New Play:

Venue:
Location:
Staging:

First performance:
Opening night:
Final performance:
Stephen Mallatratt
Yes

Library Theatre
Lecture Room, Scarborough Library
Round

18 December 1975
18 December 1975
10 January 1976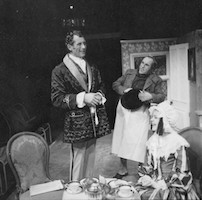 Director:
Design:

Stage Manager:
Deputy Stage Manager:
Asst. Stage Manager:
Asst. Stage Manager:
Asst. Stage Manager:
Alan Ayckbourn
Helga Wood

David Millard
Peter Chadwick
Stephen Lowe
Wendy Murray
Kevin Wood
Character

Will Fern, a blacksmith
Meg , daughter of Toby
Mr Tugby, a shopkeeper
Mrs Tugby
Alderman Cute, a magistrate
Mrs Cute
Toby Veck, a street porter
The Spirit Of The Chimes
Actor

Stephen Mallatratt
Alison Skilbeck
Malcolm Hebden
Wendy Murray
Christopher Godwin
Janet Dale
Bob Eaton
Polly Warren
○
This was a new adaptation of Charles Dickens' novel by Stephen Mallatratt.

○
During the 1974 and 1975 winter seasons at the Library Theatre, Scarborough, the Library Committee did not make the venue's Concert Room available; this room being where the Library Theatre had been based since 1955. In its place, a smaller room on the same floor - the Lecture Room - was offered but which could not incorporate theatre-in-the-round with productions performed three-sided (thrust).
All research for this page by Simon Murgatroyd. Image copyright: Scarborough Theatre Trust.