Alan Ayckbourn: Plays Directed
Author:
New Play:

Venue:
Location:
Staging:

First performance:
Opening night:
Final performance:
Brian Thompson
Yes

Stephen Joseph Theatre In The Round
Main house (Round)
Round

28 May 1981
28 May 1981
22 July 1981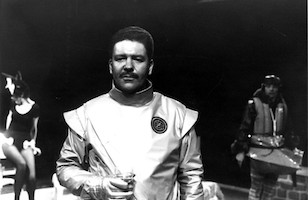 Director:
Lighting:
Design:
Music:

Stage Manager:
Deputy Stage Manager:
Asst. Stage Manager:
Asst. Stage Manager:
Asst. Stage Manager:
Alan Ayckbourn
Francis Lynch
Edward Lipscomb
Paul Todd

Isobel Nimmo
Eric Lumsden
Sue Merry
Phillipa Malbon
Christine Kavanagh
Character

Duncan Atkinson
Margorie Atkinson
Edward Burnbridge
Ellen Ironside
George St George
Actor

Russell Dixon
Susan Uebel
Robin Bowerman
Carole Boyd
Robin Herford
○
The Conservatory
was recorded by the BBC and broadcast in
The Monday Play
slot on 2 November 1981 on BBC Radio 4. The production was directed by Alan Ayckbourn and produced by Alfred Bradley with the Stephen Joseph Theatre In The Round company performing the roles from the summer 1981 production.
All research for this page by Simon Murgatroyd. Image copyright: Scarborough Theatre Trust.