Alan Ayckbourn: Plays Directed
Author:
New Play:

Venue:
Location:
Staging:

First performance:
Opening night:
Final performance:
A.R. Gurney
No

Stephen Joseph Theatre In The Round
Main house (Round)
Round

24 October 1984
24 October 1984
17 November 1984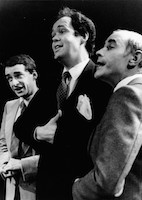 Director:
Lighting:
Design:

Stage Manager:
Deputy Stage Manager:
Deputy Stage Manager:
Asst. Stage Manager:
Alan Ayckbourn
Francis Lynch
Janet Scarfe

Eric Lumsden
Maggie Nottage
Kathryn-Anne Woodward
Drew Scott
Actor

Andrée Melly
Martin Sadler
David Learner
Jane Hollowood
Alwyne Taylor
Richard Cordery
○
The Dining Room
features six actors playing more than sixty roles; the names of the characters are not listed in the original programme.
All research for this page by Simon Murgatroyd. Image copyright: Scarborough Theatre Trust.