Alan Ayckbourn: Plays Directed
Author:
New Play:

Venue:
Location:
Staging:

First performance:
Opening night:
Final performance:
Jean Anouilh
No

Stephen Joseph Theatre In The Round
Main house (Round)
Round

21 June 1977
22 June 1977
24 September 1977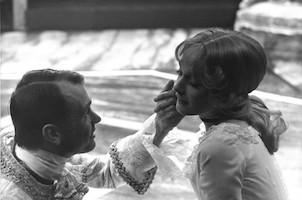 Director:
Design:

Stage Manager:
Deputy Stage Manager:
Asst. Stage Manager:
Asst. Stage Manager:
Alan Ayckbourn
Michael Holt

Janet Fox
Christopher Gray
Anne Hawkins
Simon Richardson

Character

Countess
Damiens
Count
Hortensia
Hero
Villebosse
Lucile
Actor

Petronella Ford
Robert Austin
Robin Herford
Alison Skilbeck
Malcolm Hebden
Bob Eaton
Diane Bull
○
The Rehearsal
marked the first time Alan Ayckbourn worked with the designer Michael Holt. It would begin a long collaborative relationship which continues to the present day with Michael having designed for the world premieres of Alan's plays as well as revivals and West End productions.

○
This was a production of Lucienne Hill's adaptation of the Anouilh play.
All research for this page by Simon Murgatroyd. Image copyright: Scarborough Theatre Trust.