Alan Ayckbourn: Plays Directed
Author:
New Play:

Venue:
Location:
Staging:

First performance:
Opening night:
Final performance:
Anton Chekhov
No

Stephen Joseph Theatre In The Round
Main house (Round)
Round

1 May 1979
2 May 1979
16 June 1979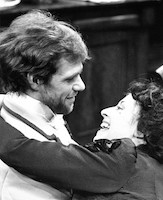 Director:
Design:

Stage Manager:
Deputy Stage Manager:
Asst. Stage Manager:
Asst. Stage Manager:
Asst. Stage Manager:
Alan Ayckbourn
Jeremy Turner

Sean O'Neill
Isobel Nimmo
Sarah Wynter
Eric Lumsden
Gareth Phillips

Character

Irina Arkadin
Constantine Treplev
Peter Sorin
Nina Zarechny
Ilya Shamrayev
Polina
Masha
Boris Trigorin
Eugene Dorn
Simon Medvedenko
Jacob
A Chef
A Housemaid
Actor

Shelagh Stuttle
Robin Murphy
John Arthur
Lavinia Bertram
Andrew Jarvis
Judy Bridgland
Alison Skilbeck
Stephen Mallatratt
Robin Herford
Robin Bowerman
Paul Todd
Gareth Philips
Sarah Wynter
○
The Seagull
marked the first time Alan Ayckbourn had directed a play by one of his favourite playwrights and influences, Anton Chekhov.

○
This was a production of Ronald Hingley's adaptation of Chekhov's play.
All research for this page by Simon Murgatroyd. Image copyright: Scarborough Theatre Trust.