Alan Ayckbourn: Plays Directed
Author:
New Play:

Venue:
Location:
Staging:

First performance:
Opening night:
Final performance:
R.R. Oliver
Yes

Stephen Joseph Theatre In The Round
Main house (Round)
Round

12 June 1985
12 June 1985
31 July 1985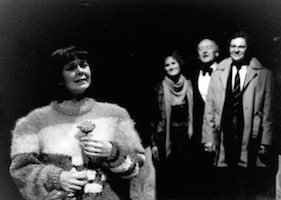 Director:
Lighting:
Design:
Music:

Stage Manager:
Deputy Stage Manager:
Deputy Stage Manager:
Asst. Stage Manager:
Asst. Stage Manager:
Alan Ayckbourn
Francis Lynch
Adrian P Smith
Paul Todd

David Milling
David Emmett-Miller
Jo Linfoot
Paul Quinn
Kathryn-Anne Woodward
Character

Howard
Wanda
Mr Burlap
Sir Michael Thurston, MP
Carol
Actor

Russell Dixon
Lesley Meade
Ursula Jones
Geoffrey Banks
Heather Stoney
○
Imaginary Lines
was written by the actor / playwright Reggie Oliver who had previously appeared in the company's production of
His Monkey Wife
. Director Alan Ayckbourn described the play at the time as "simply one of the best comedies I've read for ages."
All research for this page by Simon Murgatroyd. Image copyright: Scarborough Theatre Trust.