Alan Ayckbourn: Plays Directed
Author:
New Play:

Venue:
Location:
Staging:

First performance:
Opening night:
Final performance:
Ben Travers
No

Stephen Joseph Theatre In The Round
Main house (Round)
Round

30 November 1983
30 November 1983
23 December 1983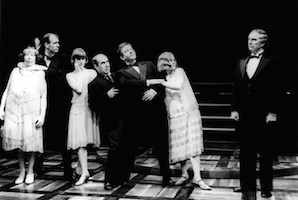 Director:
Lighting:
Design:

Stage Manager:
Stage Manager:
Deputy Stage Manager:
Asst. Stage Manager:
Asst. Stage Manager:
Alan Ayckbourn
Francis Lynch
Edward Lipscomb

Baz Edmonds
Eric Lumsden
Jo Linfoot
Mathew Claridge
Kate Woodward
Character

Hook
Warner
Cherry Buck
Lionel Frush
Mrs Frush
Sir Hector Benbow
Ronald Gamble
Lady Benbow
Kitty Stratton
Jones
Whittle
Actor

Malcolm Hebden
Lesley Nicol
Liza Sadovy
Kenneth Price
Ursula Jones
Russell Dixon
Robin Herford
Lavinia Bertram
Christina Barryk
Graeme Eton
Paul Todd
○
This was the second play written by Ben Travers to be directed by Alan Ayckbourn. He felt the first,
Rookery Nook
, had not worked as well as it could because he followed the stage directions too closely. For
Thark
, he followed his own directing instincts and felt it was far more successful.
All research for this page by Simon Murgatroyd. Image copyright: Scarborough Theatre Trust.